New Book: "DREAM LEADERS: Insights on Community Service and Leadership" by Thomas Smith (Alternate Publishing) is 2017 INTERNATIONAL BOOK AWARD FINALIST
       Thomas Smith
Author, Dream Leaders


Author, Living Leadership

Author, Shades of Leadership

Expert on Outstanding Leadership and Management Practices
Thomas Smith  is considered a leading authority on organizational structure and the practices of leading and managing.   After graduating with degrees in economics and management, Mr. Smith went to work for the U.S. government, where he became a senior executive.   He completed graduate degrees in administration and executive leadership.
"Leaders are not born that way … they are developed through their experiences and their internal work. What good is an opinion where you don't have a responsibility? Leadership is an action, not a position! Leadership is practiced in attitude and actions … and results in inspiring achievement. Don't take yourself too seriously but do take your work seriously." –Thomas Smith
Dream Leaders
Alternate Publishing
ISBN-13: 978-1544773803
ISBN-10: 1544773803
BISAC: Business & Economics / Leadership
"DREAM LEADERS:  Insights on Community Service and Leadership" (2017 International Book Award Finalist in the Anthology: Non-Fiction category) is a collection of provocative essays by Thomas Smith.  Smith has a unique voice to his publication, the voice of experience.  Smith has been there, done that, and has the scars to prove it.  "Dream Leaders" shares practical and effective advice for improving leadership skills and performance.  Everyone can find unexpected fulfillment in impacting or transforming the most important issues in their communities.  This book will help to overcome fear and doubt to incorporating leadership into your life and help you to create more engaging community service.  You will be amazed at the rewards that come from finding solutions to community problems by being a better community service leader.  This book provides inspiration for social activists and change makers and helps you to foster a reputation of being an exceptional leader.  This anthology helps to improve community service organizations that change the world, underscoring that one leader can make a difference.  The essays provide examples and a rounded study about community service and those who lead their communities.  It will help you to have an impact and improve the lives of those around you as well as yourself.  "Dream Leaders" shows you how to become an exceptional leader in community service.
Purchase at: https://www.amazon.com/dp/1544773803/ref=sr_1_1?s=books&ie=UTF8&qid=1495530177&sr=1-1&keywords=dream+leaders+by+thomas+smith
Living Leadership
Alternate Publishing
ISBN-13: 978-0692249659
ISBN-10: 0692249656
BISAC: Business & Economics / Leadership
"Living Leadership" by Thomas Smith has been honored as a "Finalist" in the "Business: Careers" category in the 2015 International Book Awards on May 21, 2015!
"Living Leadership" has been selected as the Award-Winning Finalist in the Business: Motivational category of the 2014 USA Best Book Awards on November 12, 2014!

Leadership is an action, not a position! Forget what you've heard: leaders are made, not born. "Living Leadership" is a career oriented book that is informative, fun, and engaging that provides new insights into being better leaders. This motivating book offers practical advice on everything from visionary and sustainable leadership to learning from mistakes and building credibility. After many years in a leadership role in the federal government and community organizations, the author shares lessons learned and practical tips so that the reader is able to become a better leader. This book provides innovative and useful information about living leadership and the skills needed to be capable of bringing about positive change to address the challenges facing your organization. It is especially relevant for business people interested in career building, business entrepreneurs and emerging leaders to improve individual skills and knowledge, and those who desire to work successfully in community groups and non-profits. This book provides a host of benefits for those who wish to occupy positions of leadership and develop into more relaxed, empathetic, and well-rounded people. "Living Leadership" will inform and inspire the reader to be a better leader.
2015 International Book Awards have been announced and "Living Leadership" by Thomas Smith has been honored as a "Finalist" in the "Business: Careers" category!
Purchase at: http://www.amazon.com/Living-Leadership-Thomas-Smith/dp/0692249656/ref=sr_1_1?s=books&ie=UTF8&qid=1412243903&sr=1-1&keywords=living+leadership+by+thomas+smith
Shades of Leadership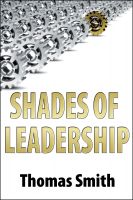 By Thomas Smith
Published by: Alternate Publishing
Language: English
ISBN: 9781301175352
Short description
SHADES OF LEADERSHIP is a collection of provocative essays that are relevant for today's leaders.  SHADES OF LEADERSHIP has been honored as a Finalist for the 2013 USA Best Books Awards.  Written with the intention for leaders to help leaders, this book takes an unorthodox look at leadership.   Inside perspective and practical tips are delivered and are meaningful to those interested in being better leaders.  The book is especially relevant to those working with community groups, non-profits, and to improve individual skills and knowledge.  This book provides useful information about critical leadership skills especially important for career development.  Everyone has the opportunity to be leaders each and every day.  This book helps to understand leadership and our ability to become better leaders. Today leadership takes many different forms.  This book helps leaders to be able to envision the future and to convince others that they have the ability and vision worth following.  This book discusses many different ideas about leadership including teamwork, authenticity, collaboration, and character.
Ebook:  http://www.amazon.com/Shades-of-Leadership-ebook/dp/B00BXVLK72/ref=la_B00ASVW1P8_1_1_title_1_kin?ie=UTF8&qid=1366404820&sr=1-1
Paperback:  http://www.amazon.com/Shades-Leadership-Thomas-Smith/dp/1481115804/ref=sr_1_2?ie=UTF8&qid=1359402413&sr=8-2&keywords=shades+of+leadership
USA BEST BOOK AWARD FINALIST!
LIVING LEADERSHIP was a Finalist in the 2014 USA BEST BOOK AWARDS contest in the Business: Motivational category!
SHADES OF LEADERSHIP was a Finalist in the 2013 USA BEST BOOK AWARDS contest in the Business: Careers category!
Jeffrey Keen, President and CEO of USA Book News, said the contests yielded more than 2,000 entries each year from mainstream and independent publishers.
Major publishing houses that participated include St. Martin's Press, Random House, Simon & Schuster, Penguin, John Wiley & Sons, Farrar, Straus and Giroux, Hay House, and Llewellyn Worldwide.
About Thomas Smith
An award-winning author and speaker, Thomas Smith's dedication, leadership and passion are shown in his thirty plus years of community involvement. He has been recognized with national and state awards; he has leadership experience in civic, social, and community organizations and local, state, and federal government. Thomas has built a deserved reputation as a thought leader and visionary regarding organizational development. Thomas earned undergraduate degrees in economics and business management and graduate degrees in administration and executive leadership. In addition, after more than twenty five years in public service, Smith earned a Certificate in Non-Profit Management at the University of Pennsylvania's College of Liberal and Professional Studies.
Thomas has been recognized for demonstrating humanitarian service at its highest level. He has shown a generosity of spirit and has selflessly dedicated his time to serving others less fortunate while making a significant humanitarian contribution of volunteer leadership that benefits the lives of others and the welfare of humanity. Thomas has had a lasting imprint on his community by promoting universal rights at home by his leadership and volunteerism and received the 2015 Palm Springs Human Rights Commission Community Service Award. He was honored at the prestigious Palm Springs Pride Honors as 2014 Community Grand Marshal recognizing his positive and lasting impact in the region. In 2014, he received the Presidential "Call to Service" Lifetime Achievement Award, national recognition for demonstrating a commitment to volunteerism.
A writer widely published in print and on-line, Thomas was honored as an award-winning author in the International Book Awards for 2017, 2015, 2014, and 2013 and the USA Best Book Awards for 2014 and 2013.   He created a popular leadership forum online as a resource for leaders worldwide and was Chair and Board member for a national leadership conference. Thomas enjoys travel and has visited all fifty states, and many locations in Europe, Asia, Australia, and Latin American islands and Canadian and Mexican cities. His travels have allowed him to learn more about cultures, the politics, and customs of others throughout the world.
It has been said that his writing defines itself by carefully orchestrated simplicity; that he writes what he knows.   His writing has been described as art, and his grammar, word choice and structure as the canvas on which his writings are painted.